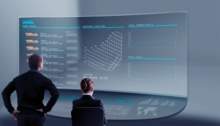 Sandvik's AutoMine product family is suitable for both surface and underground mining applications. The portfolio covers single equipment and full fleet automation, enabling operators to control and monitor an entire fleet of driverless loaders or trucks hundreds either below the surface or on drill rigs, from the safety of a control room.
Remote monitoring and process management capabilities allow supervisors to monitor and control their operations and to directly communicate with operators from wherever they are.
The benefits of choosing a Sandvik system are the improved safety for workers and expensive machinery; increased productivity levels as machine can move faster and problems are spotted sooner and; peace of mind, knowing what your equipment and team are doing in real-time.
Sandvik Mining offers a comprehensive selection of tools that includes:
AutoMine Control – Allowing supervisors to monitor operations from a control room
AutoMine Lite – Single machine automation for drilling and
AutoMine Fleet – To manage an entire fleet simultaneously
AutoMine Process Management – A two-way information exchange and task management system enabling fast alerts about delays and problems underground
AutoMine Insight – Data reports and production analysis to help make informed decisions
AutoMine Services – Sandvik's experts can support you throughout the planning, installation and start-up of your new mine automation system.
Media
Follow the links to see more about how Sandvik's AutoMine portfolio could help your business:
Sandvik's Automation website
Watch a video demonstration of the AutoMine hauling system here
Watch a video of the AutoMine drilling system here