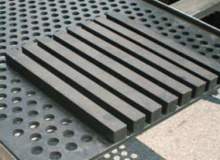 Used widely in the bulk handling industry from quarrying to mining, impact bars are an integral element of conveyor belt support and spillage control systems at conveyor load and transfer points. Unlike conveyor rollers, which eventually break or seize and act like a brake, impact bars support and absorb the impact of heavy and often sharp material, instead of the conveyor belt. The low-friction polyethylene surface allows the conveyor belt to continue moving freely, preventing unnecessary damage to the conveyor belt or drive motor.
Tecnotec manufactures steel rubber plates by covering steel plates with a layer of abrasion-proof rubber. The thickness of the steel plate varies from 2mm and rubber from around 10mm.
To avoiding clogging, special adjustment perforations are made to ensure the holes in the rubber are slightly smaller than in the steel plate.
The operating life of Tecnotec's steel rubber perforated plates is many times longer than that of regular perforated plates.