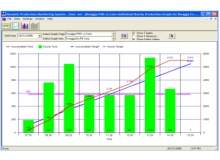 MineSuite features the latest on-board field computer equipment, which is configured and programmed according to the specific requirements of each mining operation. It integrates seamlessly with RFID, GPS and WiFi technologies for equipment tracking, proximity awareness and collision avoidance.
The MineSuite PMS feeds data into the MineSuite MIS for in-shift and end-of-period workflow reporting. When combined with the MIS, the solution enables data capturing, processing and information sharing for machine guidance, exposure, and load and haul, as well as ancillary process and equipment.
The complete MineSuite package enables mine operators and managers to control production, engineering, product quality and logistics from a single source.
The production management software has various modules and utilities that combine with MIS such as the MineSuite Proximity Awareness Module (PAS). PAS is designed for underground operations where communications coverage is a challenge.