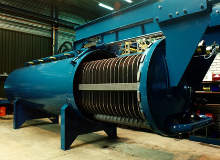 RS and RB Filters
SLFC manufactures RS and RB filters, which make use of vertically positioned filter leaves within in a horizontal cylindrical tank.
With the RS version the connections are mounted on the fixed filter cover, so that they do not have to be disassembled when the tank is opened or retracted.
With RB filters the entire filter pack is retracted, and the filtrate manifold, depending on the application, is equipped with a quick-acting closure.
Both types of filters are available with filtering surfaces of 5m² to more than 200m², for both dry and wet cake removal.
Depending on the application, the cover closure can be fitted with eye bolts and nuts, or with the special quick-acting bayonet / wedge lock closure mechanism developed by LFC.
Pulse Tube Filter
The Pulse Tube filter is developed by LFC Lochem that has proved useful in many applications.
As a single or polishing tube filter, it is especially suited to applications involving high filtration speeds, combined with low solids concentrations, and where wet cake removal is possible.
Process Pulse Tube filters on the other hand are used for both wet and dry cake removal and even as a continuous thickener.
The filter is exceptionally versatile and is available with surfaces up to approximately 100m².
Nutsch Filter
The Nutsch or single-plate filter is a real batch filter and is versatile and flexible in use.
It too can be used in conjunction with a wide range of filter media, such as paper, textile filter fabric, needle felt, membrane filter cloth, wire mesh, and sintered metal.
The filtering plate base is positioned horizontally, which makes washing or further treatment of the filter cake very easy.
On request, the Nutsch may be equipped with a mixer for continuous or re-suspension of solids.
Model Vertical Filter (MV-Filter)
The vertical MV Filter is an extremely economical filter which has a cover closure with eye bolts and stirrup nuts fitted as standard.
A hydraulic davit is mounted for quick and easy cover opening.
Depending on the application and on whether dry or wet cake is being removed, the filters are equipped with either a vibrator system or an oscillating sluice header.
There is also a model which combines both systems. MV filters are available with filtering surfaces of 0.15m² to 100m².