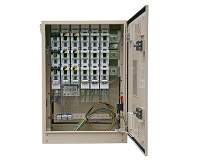 Large-power distribution cabinets / pillars are available in glass reinforced polycarbonate, painted 304 stainless-steel, aluminium and painted zinc anneal. The glass-reinforced polycarbonate enclosures are painted to provide enhanced UV-resistance.
The standard features of all steel large distribution cabinets are:
Removable front sill for cable access during cable installation
Cabinets can be supplied pre-fitted with a complete busbar system to suit most low-voltage applications
110mm busbar mounting centres for fuse switches to provide sufficient cable clearances and operator access to switch handles
Enclosure depths allow the fuse switch feeders to be left in the open position with the door closed
Filtered vents ensure protection rating is maintained while ensuring the temperature inside the enclosure is kept to equipment operating limits
Busbars, neutral and earth bars are provided with roll formed threaded holes to facilitate the convenient mounting of additional switches and easy connection of cables
All large commercial pillars can be supplied with accessories for the following installation types:
Cable pit mounted with removable front cover for good cable access
Inground frame mounted with removed front bar for good cable access
Wall mounting
Concrete plinth mounting
Standard commercial pillar sizes (enclosures stocked) are:
3 module 600A
5 module 800A
6 module 800A
7 module 800A
9 module 800A
Note:
• A module refers to a full size switch of 100mm width. Most pillars are supplied with busbars to mount either the full modules as stated, double that number for DIN 00 (160A max) devices or a mixture of both.
• Standard pillars are also available with 1,000A bus ties fitted.
• Standard spare space covers are a stock item.
Pillars
Weber works closely with customers to solve problems in underground networks. Connection of large cables at suitable working heights for field personnel and reliability are but two ongoing issues raised on a regular basis. The range of composite pillars and glass-reinforced polycarbonate enclosures help provide some of the answers.
The other side of the solution is the wide range of reliable switchgear at Weber's disposal. Tested to Australian conditions the reliability of the switchgear and the connecting busbar work is unquestioned. Making high-current connections that last for extended periods is what is needed in an electricity network that's what Weber does well. Underground distribution pillars for power distribution on low voltage networks are critical infrastructure in all electricity frameworks.