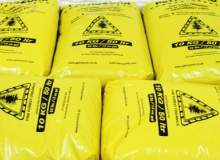 PèTROZORB (pronounced peat-ro-zorb) is the name of a series of absorbent products. Their characteristics allow for rapid absorption and vapour suppression for petroleum hydrocarbons and hydrophobic chemical spills on water and land surfaces.
The PèTROZORB range is a field-proven industrial absorbent that is economical and fast-acting. The product is manufactured from 100% all-natural forest organic fibres that are non-abrasive, non-toxic, non-leaching, free flowing, environmentally friendly and economical. In its natural state, it is already biodegradable and 100% safe to handle, requires no protective clothing, specialised trained technicians or high-tech equipment for handling or disposing of the spent absorbents.
The PèTROZORB Range is used extensively as both an emergency response and every day spill management tool.
PèTROZORB absorbent properties are compatible with those of peat and other locally manufactured absorbents. The product is lightweight and easy-to-use as well as extremely cost-effective. Flammable liquids that are absorbed will not ignite when exposed to a flame further than 30mm. On application PèTROZORB suppresses vapours and odours, hence minimising associated risks of proliferation, explosion and combustion. PèTROZORB does not carry electrostatic charges.
PèTROZORB is made from selected natural organic materials that are hand picked to eliminate high volumes of dust and to ensure only the highest, freshest quality absorbent materials. Oil-eating microbes (OEM) stay in a dormant stage, ready to become active for bioremediation once moisture has been added to the absorbent. This allows for the product not to start decomposing within the bag prior to use, such as other available products.