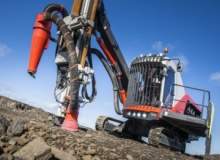 Stronger and safer drills for future mining
Pantera® drills have been designed specifically for the mining industry to be strong, stable and reliable, while also complying with all important safety standards.
Sandvik Mining's new Pantera percussive drill platform is available for both down-the-hole (DTH) and top hammer (TH) applications. The drills deliver increased capacity, lower fuel consumption and improved safety.
Pantera drills are designed to serve the mining industry today and as it moves towards automated and fully autonomous operations. Drills are designed for wall control, pit development and production drilling hard rock open pit mines and they all share the same platform, control system and automation infrastructure.
EHS integrated into the product design
The Pantera range has safety features for mining conditions and contour surface drilling found only in its series, including:
Specifically designed for mining and safe platform for all users
Wider platform and heavier base for better balance
Side platform and service bay for easy access
Innovative FOPS/ROPS steel structure
Newly-designed cabins
Composite structure for noise protection and insulation
Room for the trainer, ensuring skills development
User-friendliness and better performance
Fuel efficiency through optimised powerpacks
Mobility is built into the Pantera design, allowing for better stability on contours and still allowing flexible movement.
The ergonomic cab design means fewer fatigue issues for operators, which equates to lower incident frequencies.
Media
Find out more about the Pantera range by via Sandvik's media links:
Visit the campaign site
Watch the film