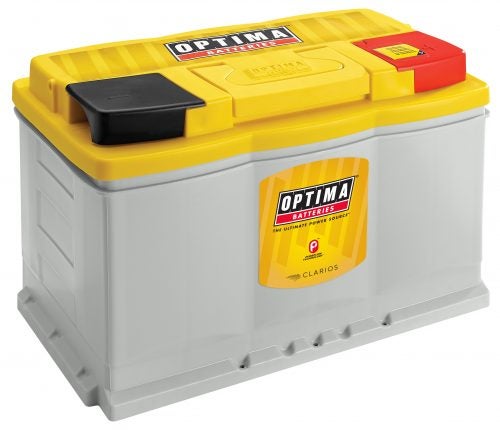 The new OPTIMA® YELLOWTOP® H6 is a true dual-purpose battery, delivering ultimate starting power and deep-cycling in one complete package; bringing the OPTIMA YELLOWTOP power to today's vehicles. When you're looking for the ultimate in power, performance and reliability for your mining vehicles, OPTIMA Batteries deliver every time.
Pure and simple, the YELLOWTOP was made to get things done. On mining sites or long hauls across the country, YELLOWTOP is there to help you power through extreme temperatures, high accessory loads, deep discharges and short recharge cycles. YELLOWTOP is 15 times more vibration resistant than traditional batteries, making it the ideal energy storage solution for the mining sector.
OPTIMA YELLOWTOP high-performance AGM batteries can be used in a range of machinery on mining sites, including:
Personal transport vehicles
Haulage vehicles
LHD Loaders
Mining scalers
Underground graders
Roadheader vehicles
Mobile rock breakers
Mining utility vehicles.
OPTIMA YELLOWTOP AGM Battery Benefits
The new OPTIMA YELLOWTOP has been engineered with 99.99% pure lead, highly compressed radial grids and a direct-path cast-on strap to deliver robust power, extreme recharge and unsurpassed performance.
99.99% pure lead in highly compressed radial grid plates provide resistance to damage from vibration and corrosion, especially in challenging mining conditions.
OPTIMA proprietary AGM flat-plate technology features ultra-thin fibers woven into each highly compressed plate, increasing plate count and surface area which ultimately maximizes the power and significantly extends the life of the battery.
The exclusive direct-path cast-on strap establishes a direct connection between power cells, reduces internal resistance and maximizes the flow of energy, which provides faster cranking power and higher cold-cranking amps.
Up to 3X longer life than traditional batteries.
15 times more resistant to vibrations than traditional batteries.
Virtually spillproof.
Mountable in virtually any position.
Maintenance-free.
Faster recharging.
Optimal starting power.
300+ discharge/recharge cycles.
Exceptional performance in demanding environments.
The Ultimate Power Source
Since its establishment 40 years ago, OPTIMA batteries have operated at the frontier of the energy storage market.
OPTIMA are leaders in innovation, delivering technologically advanced, performance-driven battery solutions to meet the ever-changing needs of the mining sector.
Power and Performance from within
During the 1970s, OPTIMA engineered the first maintenance-free lead-acid battery for use in commercial and military vehicles.
Today, OPTIMA batteries have continued to revolutionise the industry, introducing unique, premium energy storage solutions, including their renowned PUREFLOW TECHNOLOGY™.
Trusted Energy Storage Solutions
With reliable, premium products and an extensive range of commercial batteries, OPTIMA have established themselves as a trusted brand in the mining sector.
Delivering unrivalled performance, OPTIMA batteries are The Ultimate Power Source.