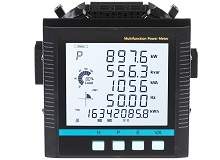 Through effective partnerships, Weber South Pacific can offer high-quality multifunction power and energy meters. Quality engineered energy submeters provides a simple robust solution for power monitoring, power quality analysis, kWh metering, system integration, controlling power distribution systems and other speciality applications.
All monitored data is available via a digital RS485 communication port running Modbus RTU and DNP 3.0 protocols, additional communication options include: Modbus, Ethernet, Profibus DP, and BACnet.
With flexible, modular I/O and communication options, the metering range offers the most versatile and cost-effective metering solutions on the market.
Metering
Voltage: V1, V2, V3, Vlnavg, V12, V23, V31, Vllavg
Current: I1, I2, I3, In, Iavg
Power: P1, P2, P3, Psum
Reactive Power: Q1, Q2, Q3, Qsum
Apparent Power: S1, S2, S3, Ssum
Frequency: F
Power Factor: PF1, PF2, PF3, PF
Energy: Ep_imp, Ep_exp, Ep_total, Ep_net, Epa_imp, Epa_exp, Epb_imp_Epb_exp, Epc_imp, Epc_exp
Reactive Energy: Eq_imp, Eq_exp, Eq_total, Eq_net, Eqa_imp, Eqa_exp, Eqb_imp, Eqb_exp, Eqc_imp, Eqc_exp
Apparent Energy: Es, Esa, Esb, Esc
Demand: Dmd_P, Dmd_Q, Dmd_S, Dmd_I1, Dmd_I2, Dmd_I3
Load Features
Four Quadrant Powers
Monitoring
Power Quality
Voltage Harmonics 2nd to 63rd and THD
Current Harmonics 2nd to 63rd and THD
400Hz type, only support 2nd to 15th
Voltage Crest Factor
THFF (TIF)
Current K Factor
Voltage Unbalance Factor: U_unbl
Current Unbalance Factor: I_unbl
Max/Min Statistics with Time Stamps