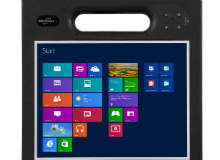 The F5m rugged mobile computing series delivers high-end, lasting processing power in an ergonomic and ruggedised package. The rugged tablets' 5th Gen Intel® Core™ processors, including the highest performing Intel i7 vPro™ processor, provide the power to quickly move through computation-intensive applications while increasing overall power efficiency.
Rugged and field-ready tablet
Rigorously tested to MIL-STD-810G, IP54 standards to prevent and survive daily bumps and drops.
Ergonomic and easy to use
3.3lb of lightweight mobility with a slip-free grip and molded handle.
Improved data accuracy
Embedded 4G XLTE mobile broadband, integrated barcode scanners and annotated image capture.
Adaptable to its environment
EasyConnect modules make this rugged computer powerful in the field, vehicle or office.
Enterprise class security
Data and systems are secure with multi-factor authentication.
The F5m rugged tablet is perfect for real-world mobile computing tasks. Field workers will have the tools needed to reduce data capture errors and improve real-time communication, resulting in better decision making and labor cost savings.