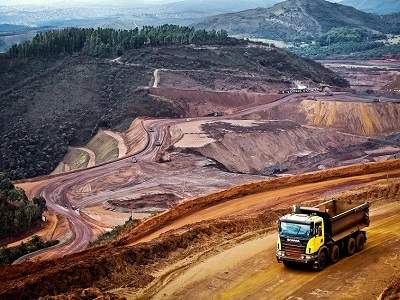 When you're working in remote areas with insufficient infrastructure the smartest solutions are required to tackle everything from dependability to logistics.
Whether they involve underground or surface mining, every one requires equipment that can stand the harshest environments.
From exploration to reclamation and everything in between, Scania vehicles and engines are making a name for themselves in the mining world. Starting with rigid dump trucks for in-pit mining or moving out with outbound haulers, Scania can put the right tools in place to ensure an optimal logistical flow, taking into account road conditions, speed limits, loading and unloading time, fuel consumption, maintenance, personnel variables and much more. There's a Scania for every stage in mining.
Smaller trucks don't require wide roads that are expensive to build and maintain. They can also be operated on public roads, with greater safety. We offer solutions for exploration and in-mine service vehicles, as well as safe transport for personnel with smarter personnel transport and bus solutions. We dimension and specify vehicles to match your operating conditions, and back them up with unbeatable onsite service. We'll even train your drivers and service technicians.
In-pit trucks
Trucks for in-pit mining have to measure up to the highest requirements for durability, reliability and safety. We have vehicles with a wide variety of configurations suitable for in-pit mining, both below and above ground. We can provide three, four and five-axle dump trucks, now with more robust Heavy Tipper components. Nearly every one of them can be delivered in an AWD configuration where extra mobility is needed.
Outbound haulage
Outbound haulage requires good telematics information to further optimise operations and increase safety. The Scania Fleet Management System can track operational parameters such as location, speed, engine condition, driver behaviour, route deviation and fuel consumption.
Service vehicles
A comprehensive service truck fleet is indispensable to mine safety and to reducing downtime and production stops. From better driver ergonomics and maximised safety to high availability of critical parts and preventive maintenance contracts, Scania's service trucks are designed to keep your business up and running. So whether it's water trucks, heavy equipment haulers, or even people transport, we've got you covered.