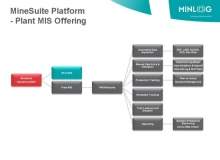 MinLog's MineSuite MIS is a customisable tool that bridges the gap between an operation's process and enterprise layers.
MIS acts as an adaptable data warehouse and is capable of modelling all mining processes (mobile equipment and fixed plant) to associate production events, assignments, consumables, operators, engineering events and operational delays with processes and equipment.
The software can report on materials movement, grade tracking, equipment and process performance, delays and breakdowns across the mining, logistics and plant beneficiation value chain.
MineSuite MIS seamlessly integrates with the production segment through its Fleet Management System (FMS) and Production Management Information System (PMS), as well as performing data acquisition through automated third party interfaces, such as Machine Guidance, Dragline, SCADA and LIMS.
Furthermore, MineSuite provides a service bus architecture that enables information to be interchanged on the application layer via application programming interfaces (APIs). This facilitates manual data entry and automated data capture by drivers, to process level systems such as database interfaces.
The plant management information system also provides in-shift and end-of-period reporting, including data validation and related workflows, as well as mine-wide information distribution.