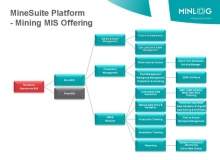 The mining industry's key driver is the constant need to reduce the cost per unit of product produced.
MineSuite's mining production and plant management information system (MIS) collects and processes data, including load and haul assignments, modes, production, product qualities, engineering events and consumables.
Data is pre-processed, validated and post-processed, then used to produce in-shift and end-of-period reports specific to management, production, engineering, logistics and grade control.