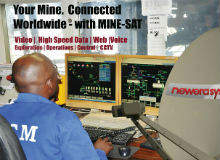 For sites with fixed ongoing operations, we offer New Era Systems' MINE-SAT.
The beauty of satellite communications' global wireless coverage is that even the most remote locations on earth can be rapidly connected to the world at high bit rates with an affordable satellite terminal (also called a VSAT). Satellite is typically the only practical solution.
VSAT and broadband for mining in Africa and the Americas
A fixed satellite system provides the mine with a communications hub for telephony, Internet, or a Virtual Private Network (VPN) between the mine and head office. Dedicated-bandwidth satellite service can also connect with the mine's wireless system or PBX to provide telephony.
Secure data exchange applications can run over VSAT between the mine and head office, so the remotest mine can access corporate systems and applications – from engineering, to scientific, to financial systems, to email and web.
Key features and benefits
3.8m C-Band fixed VSAT system
Satellite network services
Low cost equipment purchase
Professional installation
High bandwidth – up to 10Mbps
Easy upgrading and scalability
Easy integration with Wi-Fi, web, voice, etc.
Seamless connection to the corporate network
Reliable, low maintenance system
MINE-SAT advantages
C-Band service gives maximum reliability
Up to multi-megabits per second for large file, video and imagery support
Re-deployable assets – "Wireless" satellite VSAT equipment can reused at a new mine
Dedicated bandwidth offers security and guaranteed data throughput
Wide hemispheric coverage — so many remote sites are controllable via a single ops center