Broadband services for your mining & energy exploration teams, no matter how remote the location.
The Exploration challenge: geological and engineering applications can generate huge data files that may need to be sent between remote mine sites and home offices for expert analysis before important drilling or other decisions can be taken. The ability to transmit big files and two- way video over VSAT can speed local operational decision-making – and shave days and weeks off of production time, thereby greatly increasing your output efficiency.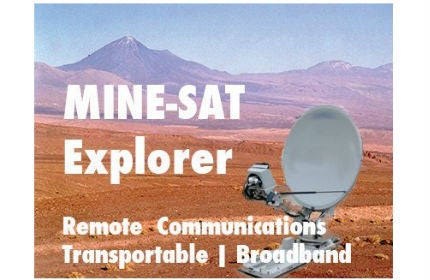 New Era Systems' MINE-SAT Explorer satellite- based solution is designed to meet the needs of exploration teams operating in remote locations.
Key features and benefits
Satellite network services (Americas, Africa, Middle East) connect to your corporate WAN
Portable equipment with a quick and easy set up
Rugged, high performance 1.2m AVL antenna system
Easy transportation — packs in three "flyaway" transport cases
Easy set up by non technical employees
Quick take down and re-packing
Affordable
MINE-SAT Explorer advantages
Light — transportable by commercial airline, truck or van
Rapid assembly — less than 30 minutes
High bandwidth, e.g. up to 4Mbps two-way
Built-in UPS for safe generator power operation as a wireless system
VSATs can be easily moved/re-deployed to new exploration sites
New Era Systems today unveiled its new MINE-SAT service for providing secure, high bandwidth and...
Often located in remote locations with harsh and extreme environments, mine sites can be well...