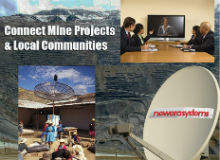 Less employee turnover means smoother operation. Corporate social responsibility programmes can help local communities with vital services.
A case in point, First Quantum Minerals of Vancouver, Canada overcame its non-African employees' feelings of isolation by using satellite earth stations installed at its housing compound by New Era Systems for employee communications with family and friends back home.
New Era Systems' MINE-SAT Employee Edition is ideal for remotely located employee family and personal communications services, as well as corporate social responsibility projects requiring broadband communications for remote communities.
Typical applications
Ex-patriot workers want online connections to family, plus leisure time entertainment, news, video, Internet, video chat, etc
Remote and rural communities can benefit from broadband communications for educational, safety and cultural links
Our solution
3.8M C-Band VSAT systems with Wi-Fi connections allowing workers in dorms access to the satellite service
Key benefits and features
Because this is a separate service from the corporate network it prevents the degredation of the corporate communications by workers' personal phone, email, web traffic — while offering valued amenities for employees
MINE-SAT advantages
New Era Systems has been providing satellite service to the mining community since 2004. Geographically we can provide service to Africa, Central and South America