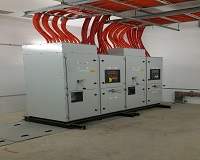 Switchboards for kiosk substations were the first products ever manufactured by Weber South Pacific. These first switchboards were only for electricity distributors.
Today, switchboards from 50kVA to 3,500kVA are manufactured for electricity distributors, mining, defence and industrial applications alike and from form 1 construction to form 4a arc contained design to AS3439.1 annexure ZD. While switchboards for new installations are most common, with the ageing network that exists in Australia the necessity to retrofit assemblies is regularly required. In some cases the demand exists due to equipment failure but in other cases, it is a matter of improving the safety of the installed equipment.
Indoor or chamber substations are an important part of any low-voltage network in larger cities and in harsh environments. In many cases today, the same networks use large-kiosk substations for the same application. However, in the central business districts of the capital cities and harsh environments such as the snowfields, low-voltage distribution switchboards will always be located indoors. From a simple 500kVA form 1 constructed switchboard to a highly complex customised switchboard for three 2mVA transformers with busties, Weber South Pacific's design and manufacturing teams can meet customers' requirements. Such switchboards are rigid customer specifications and Weber's very rigorous testing of its designs to this specification provides assurance of performance.
As with kiosk substations, the ageing networks often present design challenges for retrofit indoor substations. On one hand, we have the problem of cables that cannot be moved due to ageing insulation and on the other hand, the limited access to the location presents many challenges.