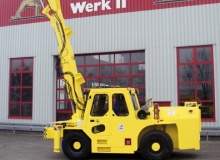 Herbst SMAG loading and scaling vehicles are ideal for underground mining operations.
All-wheel drive loaders are crucial for material handling tasks and require reliable machines and minimum operating costs.
The scaling vehicles in percussive or scaling equipment are used to hedge against ridges and so rugged, sturdy machines are necessary, due to the high forces.
All vehicles have four-wheel drive and articulated steering to manoeuvre over difficult terrains and in hard-to-reach areas of mines. The vehicle heights, turning radius and visibility are optimised and adapted to the site conditions.
Herbst SMAG loaders and scalers feature:
Heavy-duty mine design
Optimised height and compact vehicle dimensions
Excellent visibility
All-wheel drive
Loading capacity up to 14t
Scaling height up to 9,000mm
Scaling or percussive
Climbing ability up to 40%
ROPS/FOPS cabin
Easy operation and maintenance
Disassembled according to shaft dimensions