Lightning strikes are a significant danger to the safety of personnel and assets. Personnel at increased risk may include those engaged in heavy equipment operation, construction activities, or explosives handling.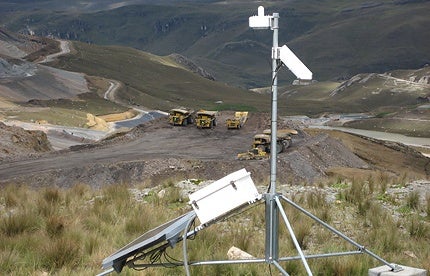 Protect people and mining operations from lightning strikes with automated lightning protection systems from Campbell Scientific.
Campbell Scientific lightning warning systems measure electric fields, lightning strikes, temperature, relative humidity, wind speed and direction, solar radiation, GPS time sync, barometric pressure and precipitation. This real-time lightning warning data is used to trigger shutdowns or evacuations during pre-strike conditions, as well as to identify resume-work conditions when the danger of a lightning strike has passed. Visual, email, text and audio alarms are available to promote precautionary actions that can save lives and prevent equipment damage.
Campbell Scientific offers training courses that can be customised to meet your specific needs to help ensure your lightning warning system provides the site condition data you need today and into the future. Campbell Scientific equipment integrates seamlessly with Vista Data Vision software. Call us today to discuss your needs.
The CR1000 module measures sensors, drives direct communications and telecommunications, reduces data, controls external devices, and stores data and programs in on-board, non-volatile storage.
Campbell Scientific's stand-alone data acquisition systems are versatile, rugged and powerful; factors that make them ideal for geotechnical and mining applications. Their versatility begins with...