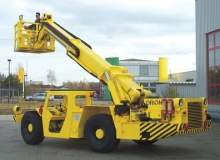 Underground mines have adverse environments and certain tasks need to be carried out in remote areas, like using lifting and construction equipment e.g. conveyor systems. In order to safely reach hard areas a vehicle with all-wheel drive and a large climbing ability must be implemented. The crane vehicles must be compact and tough to withstand the harsh conditions.
Herbst SMAG mobile cranes have been developed especially for these underground mining applications.
The all-wheel drive crane vehicles are specifically designed for underground mining and are available in various designs and loading capacities.
The robust design uses high-quality components, has compact dimensions, as well as all-wheel drive. The vehicles are ease to use and to maintenance, and are reliable for years of high-performance operating.
Key features of Herbst SMAG lifting technology and work platforms include:
Loading capacity up to 14t
Telescopic or flexible crane arm / boom
Heavy-duty mine design
Compact vehicle dimensions
All-wheel drive
Climbing ability up to 40%
ROPS / FOPS cabin
Easy operation and maintenance
Disassembled according to shaft dimensions