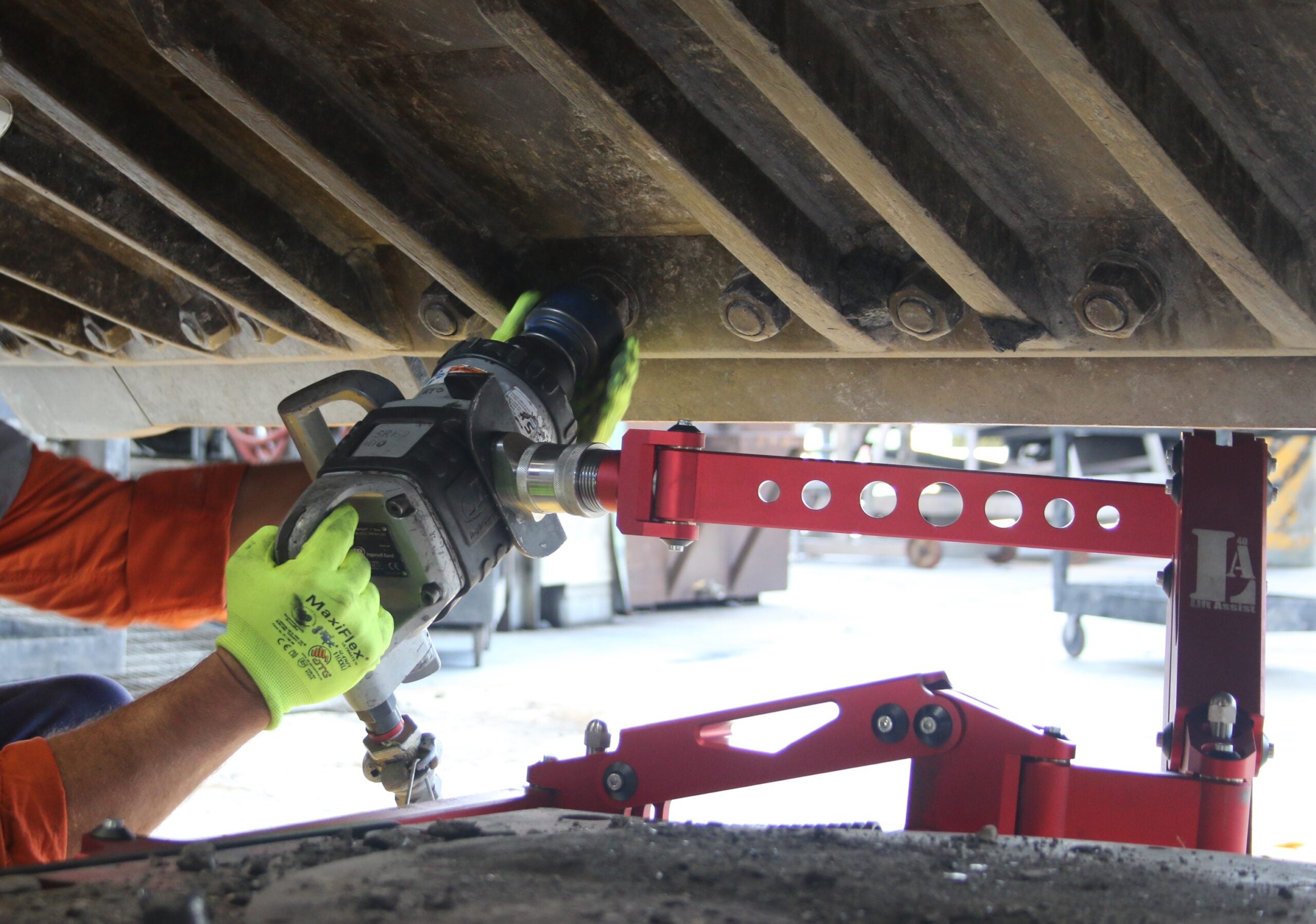 Lift your site's safety with the Lift Assist System.
Lower manual handling; experience superior flexibility and control.
There are undeniable links to fatigue and workplace accidents.
Don't let your fitters add to the hand injury statistics. Get our Lift Assist range working hard to support your safety goals and help keep your fitters safe.
The Lift Assist System is designed to be as tough as your working environment. The arm can be mounted to the front of TED (utilising an extra 1200mm of vertical adjustment) or used on our mobile stand, (currently in the design phase.) You can also attach your Lift Assist arm to any suitable, fit for purpose, certified attachment point in your workshop.
Set your Lift Assist System up to suit your maintenance needs.
The latest arm now features quick-release components in each module, for quick easy setup and pack up. Greater flexibility through more shape configurations can also be achieved through the addition of the S Bend Extension.
Lift Assist 40 (LA-40)
Protect against hand injuries and take the weight out of repetitive tasks with the Lift Assist 40 tooling manipulator arm. The LA-40 features 6 points of articulation, 1700mm vertical span and a vertical suspension range of 700mm. the components have been cleverly designed as to push fingers out rather than becoming a potential pinch point. The spring cases also feature stoppers to protect against accidental hand and finger injuries.
Achieve the sixth degree of movement, roll with the Gimble Mount Attachment. Chose from Large or small depending on the tooling and the task.
The quick release attachment enables you to have multiple tooling items set up ready to go with only seconds required to make the change.
The 'S bend' module reconfigures the Lift Assist 40 arm to allow reach into tight spots.
Lift Assist Stand
Currently in the design process, the LA40 stand will enable the LA-40 arm to stand 3m high, making it suitable for tyre bays as well as the workshop.
What industry is saying
"Doing cutting edges with TED, the GET attachment and the LA-40 is ideal; you can do the whole process with next to no manual handling." – David, Maintenance Coordinator
"A lot of the tools vibration and impact is absorbed by the LA-40's spring design. The fatigue management of the LA-40 is just awesome!" – Adam, Safety Trainer
"The range of movement and smoothness of the LA-40 is really impressive and allows me to work smarter, not harder." – Jess, Fitter