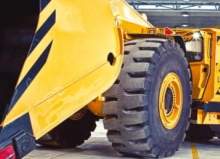 300 Series Loaders have the smallest lifting capacity in the range. The loaders have a 1.6m3 bucket capacity and a lifting capacity of 30kN. They are narrow with a small turning radius, making them suitable for narrow mine headings. They are mainly used for auxiliary works such as levelling, cleaning mine headings, and output haulage.
400 Series Loaders have a 2m3 bucket and a lifting capacity of 40kN. They are available in a standard 2.2m high and the lower 1.75m. The 400 series is similarly to the 300 series but they can also be equipped with interchangeable accessories, mounted on the quick-coupler, such as concrete mixers and forks.
700 Series Loaders are the latest in the range from KGHM Zanam and features a reduced width of 2.33m and a hydraulic quick-coupler for attaching optional accessories. The oeprator can choose either a standard 3.5m3 bucket or a flat bucket for cleaning under conveyors, a transport lifting set for a belt conveyor or forks. The 700 series is designed for mines with narrow headings.
800 Series Loaders have a lifting capacity of 80kN and bucket capacity between 3.5m3 to 5.0m3. The loaders can be used for loading and hauling the output from mine faces and also auxiliary mining works. The standard hieght machines can be fitted with removable accessories, mounted on the quick-coupler.
900 Series Loaders have buckets with capacities ranging from 3.8m3 to 4.5m3 and a lifting capacity of 90kN. The series is designed low height headings and are available in 1.5m and 1.175m. The operator's cab may be adjusted to the height of the machine.
1600 Series Loaders are the largest machines that offered by KGHM Zanam. They have the largest capacity buckets at 8.5m3 and a lifting capacity of 160kN. These loaders may unload the output at the height of 2.75m.