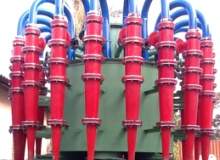 Tecnotec's polyurethane hydrocyclones can be custom-moulded from a variety of materials to meet OEM specifications.
The company's polyurethane hydrocyclones are used in oil and gas drilling applications to separate sand and grit from drilling mud, and in mining applications to remove particulate from coal, cement, gravel and various bulk aggregate materials.
Tecnotec manufactures polyurethane hydrocyclone separators which are excellent tools for separating solid materials from liquids. For instance, pulp and paper mills, which require a significant volume of water to operate, use hydrocyclones to pre-treat water drawn from nearby rivers by separating the liquid from sand and debris.