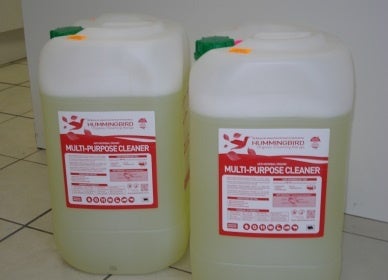 Eco Degrease's multi-purpose cleaner / disinfectant is organic, so it does not allow bacteria to mutate, whereas parasites develop immunity to synthetic chemicals and can eventually survive off these chemicals. The product contains natural oils that have the ability to cover bacteria virus and various insects and plug the pores through which they breathe, thereby suffocating the organism.
Biodegradability starts immediately and, depending on weather conditions, biodegrades within seven days. The multi-purpose cleaner will destroy potent bacteria as well as latent and dormant bacteria.
Specially designed for professional and domestic use, EDS's cleaner can be used in a multitude of areas, on all surfaces, especially, in the kitchen and bathroom where bacteria can be found, including:
Floors
Windows
Fridges
Shelves
Walls
Stainless steel
Stoves / ovens
Transport tankers
Tiles
Enamel surfaces
Cupboards
Eco Degrease and Seperation was asked by a client to supply degreaser products that could...
Eco Degrease and Seperation Solutions offers water-based degreasers that are effective, safe and environmentally friendly.Unlike...