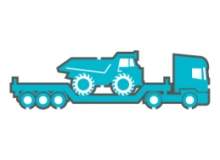 WWL ALS has for a number of years been recognised as the foremost supplier of complete, customised, high and heavy construction equipment logistics support services to manufacturers, distributors and their clients.
WWL ALS' ability to handle both standard shipments and the movement of heavy load items of plants allows it to support many of the world's largest manufacturers from the production line to end-user.
Over the last ten years, the company's range of services has developed so that WWL ALS now offers Pan-European supply chain solutions, with a complete range of logistics management services, IT systems, inventory management, warehousing and operations management. These services include:
UK, European and worldwide transportation
Intermodal transportation solutions for air, road, rail, deep sea, short sea, canal
Express cargo shipments
PDI of machines
Specification checks and modifications
Physical condition checks
Preparation of despatch paperwork and export documentation
WWL ALS' ability to supply this demanding sector with innovative logistical solutions for new and used equipment is recognised throughout the world. WWL ALS is proud to carry the machines of most of the leading manufacturers.