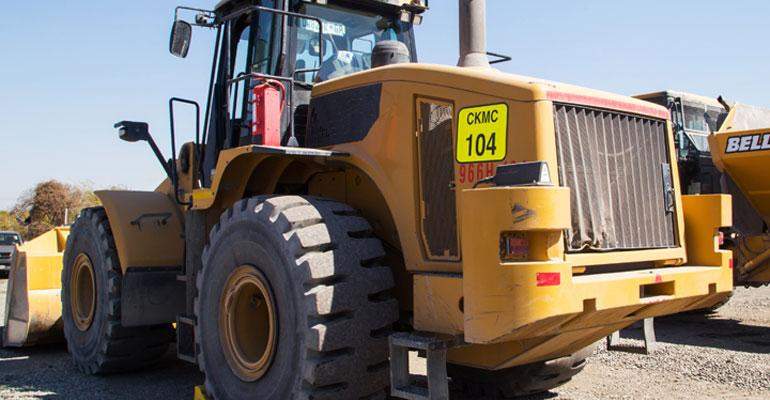 HazardAvert detection systems increase worker safety and safety awareness while working in and around mobile machinery on the job site.
Near-field, electromagnetic detection system
HazardAvert® is a well-established electromagnetic proximity detection and collision avoidance system for the mining and construction industries. It is designed for industrial working environments where numerous pedestrians, vehicles and heavy machinery operate in close proximity. HazardAvert works to overcome the inherent dangers of working near heavy machinery by detecting potential accidents and providing early warning alerts and response.
HazardAvert system components
GENERATORS on the equipment generate electromagnetic 'marker zones'. These zones are designated as the outer 'WARNING ZONE' and the inner 'HAZARD ZONE.' They can encompass the whole vehicle or be specific to certain areas.
Up to four generators can be installed on the same piece of equipment to provide greater control of coverage and shaping. A WARNING ZONE breach triggers alarms, a HAZARD ZONE breach triggers alarms and an optional equipment override to slow, stop or disable the equipment completely.
Generators also detect the marker zones of other equipment and emit warning alarms and optional equipment overrides to prevent vehicle-to-vehicle collisions. In situations where vehicles are required to interact, the system can be programmed to facilitate interaction with operator command.
The INTERFACE MODULE is the system's master controller and provides power to the installed components. It also includes memory storage for monitoring and logging events; these files can later be downloaded via Wi-Fi.
All workers wear PERSONAL ALARM DEVICES (PADs) to detect the marker zones and provide warning alarms. When a PAD breaches a zone, both the wearer and the equipment operator are alerted.
The ON-DASH DISPLAY SCREEN is the user interface for operators and includes audible and visual alarms. It provides a graphical representation of the breached zones, indicating the location of the breach (front/rear), and shows a live video feed from front and rear cameras.
CAMERAS can be installed on the front and rear bumpers to provide a wide-angle view of the immediate area, depending on direction of travel.
Automatic operation
HazardAvert is automatic and does not require operator activation. The zones remain enabled at all times to provide collision avoidance, even when equipment is parked.
Electromagnetic zones are fully functional both on the surface and underground, enabling vehicles to travel between locations and remain fully armed and detectable.
The silent zone enables operators to sit in the operator's compartment or work in specific areas without activating the alarm or disabling the equipment. As soon as they exit this silent zone, the alarms will be triggered.
Key features
Can be interlocked into equipment controls to automatically slow, stop and/or disable hydraulics
High-resolution coverage extending up to 100ft (30m) at the front and rear of equipment
Functions both on the surface and underground
Detects pedestrians and vehicles of all sizes, even when stationary
Stable, reliable and repeatable zones
Does not negatively affect production and enables workers to operate safely
Capacity to function with hundreds of vehicles and pedestrians in close proximity without latency or delay
Data recording and reports
HazardAvert tracks and records all interactions between equipped pedestrians, vehicles and machinery. Data can be downloaded via Wi-Fi or, in underground applications, wirelessly streamed over Strata's wireless communication networks to a graphical user interface (GUI) at the surface.
Data reports provide essential information about work practices, safety behaviours, productivity measurements and even as documentation for incident investigations.