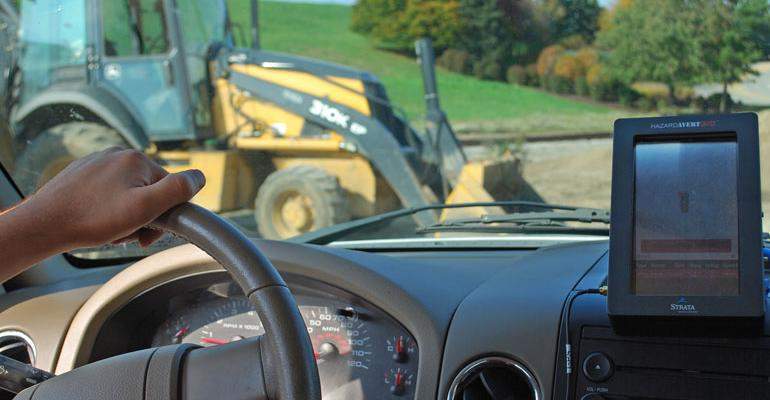 HazardAvert 360° has been created to address these safety issues and help prevent vehicle-to-vehicle and vehicle-to-person collisions and accidents.
Multi-range detection and alarm
Seamlessly combining far-range and close-range detection technologies for full-view awareness, HazardAvert 360° is designed to detect equipment and pedestrians within close proximity of operating machinery and determine if there is a potential danger of collision. If a potential danger is detected, the system will immediately emit warning alarms to operators as well as the pedestrian or pedestrians involved.
Hazardavert 360° system components
In-cab display screen
GPS antenna
Omnidirectional antennas
Concentrator
PERSONAL ALARM DEVICE (PAD) The in-cab display screen provides equipment operators with a 360° graphical view of the surrounding area. It displays the position and tracks the movements of other vehicles and pedestrians within 300m/985ft in all directions. It also serves as the operator's warning device, sounding an audible and visual alarm if potential danger is detected.
The GPS Antenna provides precise relative location for far-range detection and positioning
Omnidirectional antennas create precise triangulation location for shorter range detection
The concentrator is the system bus, connecting system antennas and feeding data to the display screen.
All workers wear PADs, which are detected by the system and emit warning alerts to the worker if they enter a path of potential collision.
Vehicle-to-vehicle detection
HazardAvert 360° is an alarm-only system that can be used on any number of mobile equipment units and vehicles. It begins identifying other vehicles and displaying their relative positions on a display screen once they come within 300m (985ft). Movement is tracked and monitored, and if a potential for collision arises, the display screens of all vehicles involved will flash and sound an audible alarm in warning.
Vehicle-to-person detection
Pedestrians wearing a PAD and positioned within 30m (165ft) of the equipment or vehicles will be detected and their location will appear on the in-cab display screen. They are identified as pedestrians. If the system detects danger, it sends warning alerts to both the operator and the pedestrian's PAD.
Key features
Multiple detection technologies integrated for expanded coverage and safety overlay
Used on heavy machinery, mobile equipment, lightweight vehicles
All equipped machinery and pedestrian PADs in the working area are detectable
Vehicle-to-vehicle
Vehicle-to-pedestrian
Vehicle-to-fixed asset or stationary vehicle
Unaffected by daylight, weather conditions or air-borne particles such as dust
Integrating the capabilities of HazardAvert 360°™ & HazardAvert®
For operations seeking the ability to automatically slow, stop or disable equipment to prevent collisions, HazardAvert 360°™ can be integrated with HazardAvert® electromagnetic systems to operate in conjunction and display information on a single user interface. Together the systems provide comprehensive detection and alarm capabilities, including the ability to override equipment controls in an emergency situation.
The system integration is seamless, and requires no input or interaction from equipment operators during operations.