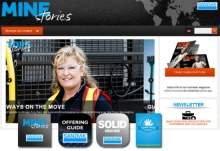 Sandvik Mining has an ever-expanding range of mobile apps for iOS and Android devices.
Sandvik also has a storytelling portal where the company has collected the best success stories, trending articles, film clips and other useful communication materials.
Media
To browse and download Sandvik apps, click this link.
Access Sandvik's minestories portal here.
View Sandvik Mining's company videos here.