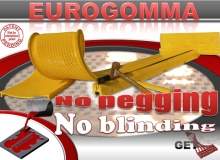 EUROGOMMA's constant research into improvement of screening performances has led to the creation of GET flexy.
GET flexy is the polyurethane elastic screening system retrofitting every existing screen deck to transform it into a high-efficiency technology.
The elastic effect of the polyurethane flexible screen panels solves pegging and screen blinding problems by improving the screening efficiency to incredible performance. With GET flexy, it is now possible to provide conventional screen decks of double productivity or larger.
Read more information here.