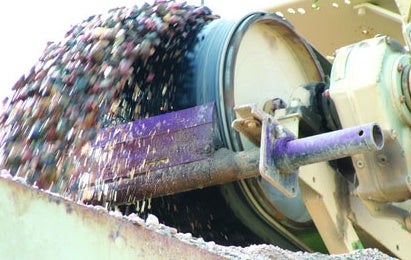 All Flexco and TUFF belt cleaners are interchangeable; the only difference is that the TUFF unit is made in Australia from cast stainless steel, is generally better priced and available.
TUFF H belt cleaners are primary cleaners for installation on head pulleys. They are designed to efficiently remove carry back and maintain performance, even as the blades wear. Independent shock-absorbing cushions deliver constant tensioning to the blades that can conform to irregular contours of belt surfaces. Excellent for reversing belts when installed at both head and tail pulleys. TUFF H cleaners are manufactured in stainless steel and available in custom built and reinforced pole options, to suit all belt widths. Other options include tungsten tips, polyurethane blades for mechanical fasteners, heavy-duty arms and economy series. They are suitable for underground, hard rock and metal mining, aggregate and bulk material handling operations.
TUFF XHD Belt Cleaners
TUFF XHD cleaners perform in the most adverse environments. The robust cleaner units are designed to handle heavy-duty applications, and are manufactured in stainless steel and available in spring, air or water tensioned options.
TUFF XHD features include:
Patented wear indicators allow an operator to determine blade wear without accessing the chute
Slide-in blades that don't need the pole removed during blade change-outs
A range of blade materials for specific applications, including the revolutionary material that sets the bench mark in polyurethane performance and durability
Suitable for the heaviest-duty, high-speed applications in underground mining, hard rock and metal mining, aggregate, and bulk material handling
Scanbelt is a world leader in plastic modular belting and, along with Australian distributor WA...