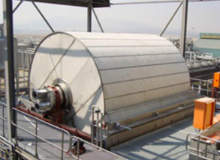 Vacuum Filters
Rotary Drum Vacuum Filters
Belt, string, scraper-assisted blow-back or roll discharge are all applicable where the solids are filterable on themselves. Each requires a cloth, paper, or woven synthetic fabric filter media.
The basic difference between these types of filter is the manner in which the cake is discharged, which is determined by the characteristics of the cake itself.
Horizontal Rotary Filters
Well suited for the filtration of free-settling, free filtering coarse crystalline or fibrous pulp slurries. They provide rapid dewatering and efficient cake washing at large cake capacities.
Travelling Belt Filters
Also well suited to the filtration of fast draining slurries.
The travelling belt filter is well suited to applications requiring thorough cake washing (including multi-stage counter-current washing) at high throughputs.
Precoat Vacuum Filters
This type of filter is preferred to those processes requiring a high degree of clarity in the filtered liquid, or where the solids filter poorly on themselves, ie some slurry solids blind or choke off the filtering action.
This type of filter requires the use of a filter-aid (normally diatomaceous earth) to build up a filtering cake on the surface of the rotating drum.
Gas Filtration – Mott Corporation
Mott corporation products, available through SLFC, provide porous metal solutions.
HyPulse Filtration Systems
Mott HyPulse filters provide exceptional performance in many liquid / solids and gas / solids separation applications. Catalyst recovery, liquid clarification, calciner offgas and injection well protection are just a few applications where HuPulse filters are working today.
HyPulse Filters
For even greater convenience, Mott can provide porous filter elements, complete with housings and fittings. We help you select proper sizes, inlet and outlet connections, materials for wetted parts, and other features for high-efficiency filtration.