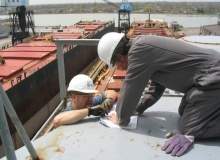 EMS-Tech understands that minimising operational downtime of bulk-handling equipment is critical to the movement of product and business success.
The company supplies essential OEM and DEM spare parts on time for both stock replenishment and critical breakdown situations. In addition, EMS-Tech's trained professionals are available in an emergency to get you back on-line as soon as possible.
The team specialises in redesign of worn or damaged parts for improved operational efficiencies and an extended lifecycle of critical equipment. Field advisors are available to direct your maintenance staff or subcontractor during installation, erection, commissioning and operation of new and replacement parts.