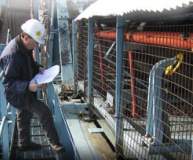 EMS-Tech Inc specialises in structural, civil, mechanical and electrical engineering, with a team of professional engineers able to perform on-site and in-office visits.
The scope of skills offered ranges from ad hoc repair recommendations to prolong equipment service life, to detailed structural analysis of new machines, and analysis and replacement of underperforming systems.
EMS-Tech offers cutting-edge control and automation systems. Its DEM analysis will ensure that cargo is flowing through your system where you want it, with minimum dust, spillage, downtime and maintenance. The company is flexible enough to meet any specification or design code required.