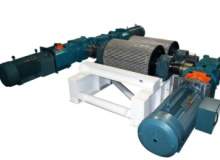 West River's heavy-duty frames are built from heavier steel than most companies use, providing a drive that withstands the most demanding underground and above-ground bulk manufacturing operations.
West River's ability to work with each customer to create a drive suitable for their needs is the company's number one priority.
West River currently builds the popular alignment-free drive, where the need to align is completely eradicated, making it a great choice for those interested in long-term cost savings. Other popular drives include the combination drive / take-up unit, chain driven drive and shaft-mounted reducer belt driven drive.
Most recently, West River added the new alignment-free combination conveyor to its fleet of equipment. Using readily available, common components, this conveyor is a very popular option. All drives are available in a variety of belt widths and any desired horsepower / voltage.