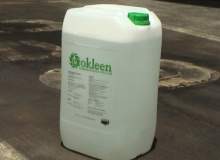 EcoKleen Advance is an ultra-high performance water-based, alkaline, degreasing fluid specifically designed for demanding industrial applications.
EcoKleen Advance is, unlike many other 'water-based' degreasing fluids currently employed in the South African industry, it is formulated with the complete exclusion of organic solvents, which renders EcoKleen Advance completely non-flammable and unable to support combustion under the unlikeliest of circumstances. EcoKleen Advance is also entirely safe for use on painted surfaces and will not swell or perish rubber components or surfaces.
EcoKleen Advance readily releases hydrocarbons from its oil in water emulsions upon standing for any length of time. This is essential for the successful operation of a separation tank farm and is a property not commonly observed within solvent emulsion types.
EcoKleen Advance has been formulated only with the latest surfactant technologies, which comply with the EEC directive 73/404/EEC on the biodegrading of surfactants and contains no Nonyl Phenol Ethoxylate(s) including NP9. EcoKleen Advance has been formulated to be non-toxic and non-hazardous to humans, animals and aquatic life under the EEC hazardous classification.
EcoKleen Advance is tested and approved under the SANS 1828:2005 edition 1.3 in respect of non-corrosion of stainless steel, being moderately alkaline in nature it is far less likely to chemically attack metal surfaces.
EcoKleen Advance incorporates the latest European technology with regards to chelating agents, these being biodegradable and having the least impact of their class on the environment and are completely soluble in water.
Eco Degrease & Separation endeavours to uphold its mission statement at all times. As such, the company is constantly reviewing the latest developments in international technology (especially those relating to environmental impact) and implementing them whenever possible.