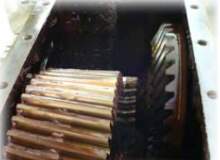 High-performance oil providing effective lubrication for high-temperature, high-load applications
Duolec vari-purpose gear lubricant is a high-performance industrial and automotive gear oil that ranges from ISO VG 46 to ISO VG 1500. The lubricant is designed for use in any industrial gear or bearing application that requires a thermally stable, extreme pressure lubricant and it keeps on performing even after filtration. Duolec also meets the requirements for many hypoid and planetary gears in heavy-duty mobile equipment, as well as differentials in over-the-road vehicles.
Vari-purpose gear lubricant contains Duolec, Lubrication Engineer's dual-acting additive that provides both wear-reducing and extreme pressure protection. It is fortified with a shear stable tackifier to provide adhesion to metal during use.