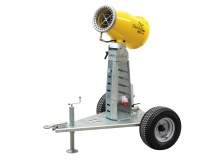 Technical specifications of Demolitor 40:
Theoretical throw distance (without wind): 20m – 30m
Rings of nozzles: N. 1
Number of nozzles: N. 27
Type nozzles: stainless steel
Nominal fan power: ~3kW
Manual angle of rotation: 340°
Manual pitch angle adjustable from: -20° ÷ 45°
Hydraulic connection: 1.5 gas M
Electrical connection: 400V, 50Hz, 3P+T, 16A
Protection rating: IP 55
Noise level: <93 Lwa
Water filter with extractable cartridge
Water pump: 2.2 kW
Minimum pressure: 0.5 bar to maximum 35 bar
Weight: Total weight dry approx. 200kg
Optional: Ergonomic radio command – main electrovalve – electro-mechanic system for rotation
The data is indicative and not binding. WLP reserves the right to make changes at any time and without notice.