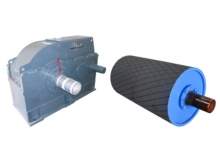 West River stocks thousands of conveyor parts such as belt rollers, pulleys, bearings, heavy conveyor sprockets, motors, fluid couplings, bull gears, backstops, chains and more.
The company's inventory variety has come from more than 32 years in the business of building conveyor systems and listening to customers' needs. West River sells engineered-class pulleys and has more new and used speed reducers than any competitor in the country.
Give West River a call today to discuss your conveyor parts needs.