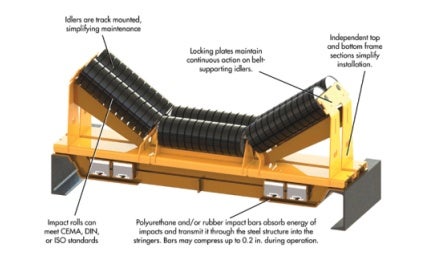 WA Belting Solutions is a stockist and distributor of trough idlers, rollers and frames. The company provides customers with quality products that meet all Australian standards and are manufactured to be directly interchangeable with other recognised manufacturers brands, all at extremely competitive prices. WA Belting idlers, rollers and frames are widely used in collieries, quarries, timber mills, gold mines, iron ore plants and bulk material handling facilities.
WA Belting's range of conveyor idlers, rollers and frames is constantly being developed to meet customer's increasing demands and to reflect market trends.
The company's standard stock range of conveyor idlers, rollers and conveyor frames includes:
Three-roller offset, inline and transition trough sets
Five-roller offset trough sets
Two- roller inline trough sets
One-roller flat carry idler sets
Three-roller impact trough sets
Four and five-roller impact trough sets
Ten-roller retractable impact trough sets
One-roller flat carry impact sets
Cantilever trough rollers
Side wing rollers
Retractable standard trough and impact trough sets
Picking idler sets
Garland suspended trough and impact idler sets
Rubber disc return idler rollers
One and two flat carry impact rollers
Three-roller trough training idler sets
Three and four-roller trough training sets
One and two-roller flat return training sets
Side guide rollers and brackets
Return rollers and brackets
Flat return impact rollers and brackets
Self training return idlers
Two-roller v return sets
Weigh trough roller sets
Free standing garland, suspended and fixed trough conveyor structure
Scanbelt is a world leader in plastic modular belting and, along with Australian distributor WA...