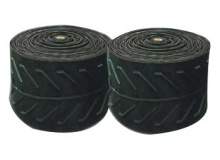 WA Belting Solutions stocks a wide range of conveyor belting in its Perth stores.
The company stocks conveyor belts including:
Polyester / nylon standard weave belting in two, three and four-ply varieties of PN150 and PN200 strength rating and standard covers
Crows foot weave (CFW) with super-high tear strength (PN350) available in three and four-ply with heavy covers
A range of chevron vee patterned belts up to 1,500mm wide with cleat heights of 6mm, 15mm and 25mm for heavy inclining
WA Belting supplies Australian industries with any of these belt types, which can be fitted up with Super-Screw joins, mechanical fasteners, or hot vulcanised on-site. The company demonstrated its unique ability to join belts on-site in a project earlier this year, when it joined steel cord belts as long as 2.7km long in the north-west of WA.