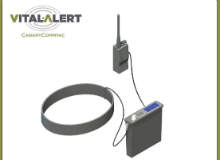 CanaryTalk is a highly portable operational and critical use communications solution. It enables voice and data communication through-the-earth to a depth of 450m.
It can be used to provide communications in new development, and temporary use areas, or in spaces where wired communications are cost-prohibitive or ineffective.
It is quick to set up and can integrate with existing communication infrastructure (wireless, fibre, leaky feeder, etc.) or function independently.
Attributes:
Weight: 7.4kg
Link: two-way
Transmission types: voice, data
Depth: up to 300m
Antenna: 5m loop