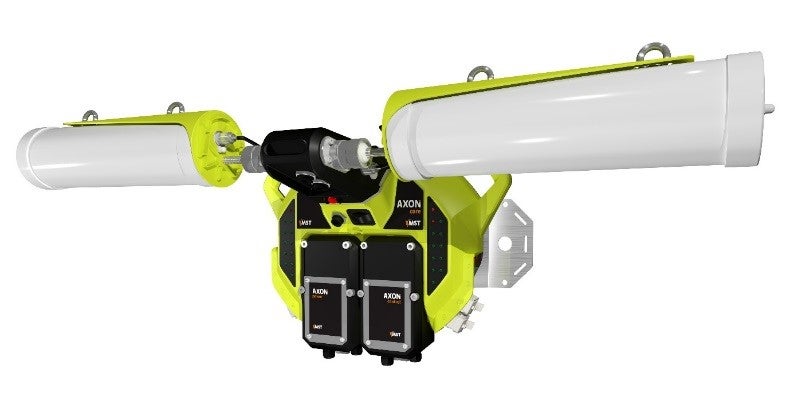 AXON is the latest version of MST networking systems. AXON is a true digital ecosystem of devices and software applications to provide the foundation for an underground mines' digitalisation objectives.
AXON provides the two-way connectivity needed to acquire and leverage the power of big data and software management systems to enable the optimization of underground operations in real-time.
The AXON range includes the option to add specialized distributed edge computing modules. These modules, accompanied by Control and Automation software, provide seamlessly integrated solutions for controlling processes, such as activating pumps, ventilation on demand, or traffic management.
The modules are also designed to manage and integrate IoT sensors for next-generation SCADA-like applications. AXON core allows for future wireless communication and tracking technologies to be adopted as they mature or become available. For example LTE/4G/5G, LORA or other third-party technologies. The capability of the AXON platform is further enhanced by the powerful and versatile Microsoft Azure which allows a variety of MST and IoT applications to operate.
AXON Core
MST's AXON core is one of the highest performing network platforms with speeds of up to 1Gbps enabling simultaneous voice, video, and data transmissions; and IoT, Cloud and Edge Computing applications to operate at maximum functionality at any scale.
AXON core incorporates purple PoE+ ports, 1Gb fibre switches and a range of plug-in modules for a large range of data interfaces and edge computing applications.
AXON Air
AXON air is a Wi-Fi access point designed with power and coverage in mind. It can be daisy-chained via its 1Gbps PoE+ port to provide dual-frequency Wi-Fi coverage in hard to access locations such as declines, workshops and last mile connectivity. The most simple and affordable way to connect your mine using copper Ethernet cable.
AXON Expansion Modules
The AXON core has a range of plug-in modules for additional functionality, local processing and simplified data interferes.
A key module is AXON control, which offers the most versatile and cost-effective way to implement control and automation processes in harsh underground environments. As a plug-and-play edge computing gateway with advanced I/O capabilities, AXON control is designed to enable a range of process optimization scenarios when connected to the AXON core digital platform.
Wireless Repeater Node (WRN)
The WRN is a self-meshing network extender/access point. Intended for the ad-hoc extension of a mine's existing Wi-Fi network, for example, MST's IMPACT Network, the WRN is fit for purpose for VoIP, tracking and data transport.
The WRN allows high-quality connectivity to be maintained wirelessly in the most dynamic parts of the mine, such as the mining faces and ore drives.
Integrated Communications Appliance (ICA)
The ICA is the base server and software package to manage the AXON digital network.
It also operates the MineDash software application which is the reporting and user interface for the various applications supported by the AXON digital platform. These include:
Visualisation and reporting on an underground tracking system. Real-time location is one of the most common applications supported by MST's Wi-Fi and IP networks.  Using active Wi-Fi RFID Tags and Bluetooth tags the position of all people and equipment can be monitored in real time.