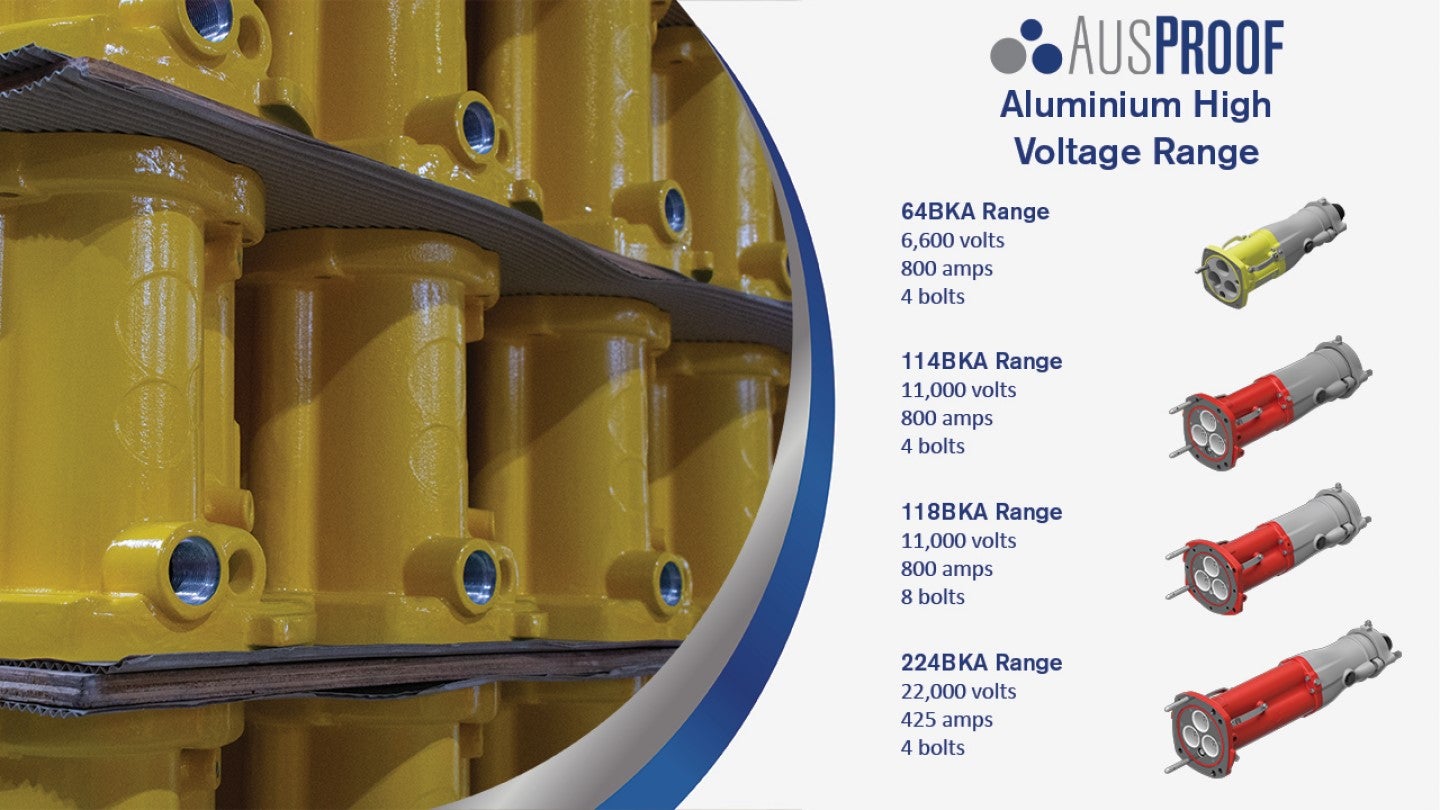 Also known as 'open-cut couplers', products within AusProof's Aluminium High Voltage Range hold an IP68 rating, far exceeding the required standard of IP55. Designed for non-Ex operations, including metalliferous mining, open-cut mining, pumps and tunnelling projects, products available in the High Voltage Aluminium Range include:
the 64BKA, with a current carrying capacity of 6,600 volts and rated to 800 amps;
the 114BKA, the first coupler in their 11,000 volt range, rated to 800 amps and requiring only 4 bolts for faster opening and closing the coupler system, increasing efficiency;
the 118BKA, the second coupler in their 11,000 volt range, rated to 800 amps and requiring 8 bolts to open and close the coupler system; and
the 224BKA, with a current carrying capacity of 22,000 volts and rated to 425 amps.
For nearly 30 years, AusProof has been designing and developing high voltage aluminium couplers. The products currently offered in this range are the result of stretching the limits of current understanding and knowledge of high voltage technology. With the safety of their clients their number one priority, whether above ground or below it, AusProof seeks to provide those working around high voltages peace of mind with safe, high quality power supply solutions. As of mid 2022, all aluminium high voltage couplers dispatched now come with AusProof's revolutionary LED Live Line Indicator as a standard feature. A modern technological marvel, utilising LED's has enabled the Live Line Indicator to be seen even in the bright daylight of open-air operational sites.
A number of accessories are available for products within this range, including adaptors, crimp contacts, armoured and unarmoured glands, slide hammers, and AusProof's CAT Skid.
Designed and referenced to AS/NZS1300:2009, AusProof's high voltage aluminium couplers feature an enclosed guide pin, providing even greater earth connectivity and pilot control. When closing the coupler system, the guide pin of this design becomes enclosed within the body of the casting, providing the pin added protection from external damage. Additional features of AusProof's high voltage aluminium couplers include:
Phase to earth segregation
High MPa aluminium material
Earth pilot connectors
Silicon seal for face
To get in touch with your local state sales representative for more information and pricing details, AusProof's contact details can be found on their profile. Further information on these products, as well as access to downloadable technical manuals, test certifications, and product dimensions for the 64BKA, 114BKA, 118BKA, and 224BKA, can be accessed on the AusProof website.