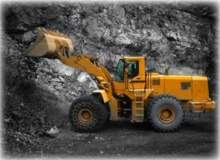 Solid lubricant grease with calcium sulphonate complex thickener provides lasting protection for heavy mobile equipment
Lubrication Engineers has formulated its solid lubricant-containing, calcium sulphonate-thickened Almamoly™ HD grease for use in severe conditions such as high temperatures, heavy loads and water.
The high-performance grease provides long-lasting benefits for heavy-duty mobile equipment such as that used in open pit mining, construction, road building and agriculture.
Almamoly HD grease contains Almasol®, Lubrication Engineers' proprietary solid additive. It also contains 5% molybdenum disulphide (also known as molydisulphide or moly). Compared to other solid lubricant-containing greases that rely on moly or graphite, Almamoly HD grease offers a synergistic combination of moly and Almasol for greater wear-resistance. This unique combination of solids helps ensure a reliable lubrication and stays in place even when squeezed out of the contact zone by extreme pressure or heavy shock loading. The calcium sulphonate complex thickener provides additional performance features that make this grease ideal for many extreme conditions.