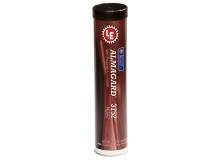 Long-lasting red grease stays put and runs cool
Almagard vari-purpose lubricant offers customers a cool-running, long-lasting, water-resistant performance. The lubricant dramatically lengthens grease intervals, eliminates bearing failures, can extend bearing life by up to threefold and does not harden with age.
Almagard is recommended for extended service applications, as it is extremely tacky so will not wash off, pound out or melt and run even in adverse conditions. It is ideal for high impact situations such as on and off-road equipment, as well as many in-plant applications.