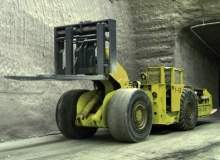 Many mine sites require heavy forklift trucks to safely transport materials, such as power generators, components for conveyor systems, basket loadings, and the relocation of equipment and tools for each site.
Workshop and repair operations use the flexible and diverse attachments for the lift trucks, such as work platforms, crane arms and manipulators.
Herbst SMAG all-wheel drive heavy-duty forklift trucks, or telescopic vehicles, are designed to withstand the rigours of underground mining. The robust vehicles are manufactured with high-quality com¬ponents and have compact dimensions, as well as all-wheel drive, and ease-of-use and maintenance.
The forklift trucks can be used with work baskets, manipulators, shovels and exploration drillings, and a variety of other attachments, for absolute flexibility and functionality.
Herbst SMAG forklift trucks serve a range of applications, including:
Heavy-duty mine design
Compact vehicle dimensions
All-wheel drive
Climbing ability up to 40%
ROPS / FOPS cabin
Easy operation and maintenance
Disassembled according to shaft dimensions