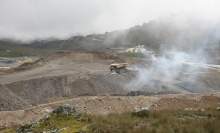 Mining operations have to be responsive to regulatory requirements. Campbell Scientific's air quality and pollution monitoring systems reduce risk and save money by automating data collection and reporting processes. The systems are built around rugged, low-power, field-proven gear for measuring solar radiation, gases, particulates, atmospheric stability class and other required parameters.
Real-time air quality measurement data is collected in a central location for easy viewing on-site or remotely and, more importantly, for informed decision-making in response to changing conditions. Alarms can be automated to quickly and efficiently communicate the need to adapt operations to field conditions.
Campbell Scientific offers training courses that can be customised to meet your specific needs to help ensure your air quality system provides the site condition data you need today and into the future. Campbell Scientific equipment integrates seamlessly with Vista Data Vision software. Call us today to discuss your needs.