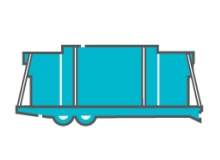 WWL ALS provides a professional, global, abnormal load handling and general freight forwarding service. The movement of abnormal loads and heavy equipment is the cornerstone of WWL ALS' business.
As heavy machinery and plants become more sophisticated, the need to be able to blend the services of both heavy load movements and general standard trailer movements have taken WWL ALS into the more general freight market.
Every out-of-gauge transportation requirement is unique and requires knowledge and attention to detail. WWL ALS ensures the most secure and effective movement is provided to satisfy client's requirements.