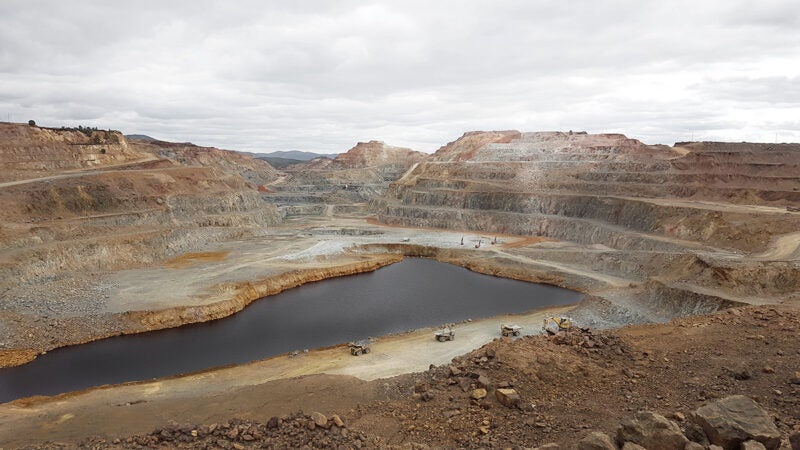 Utility company Endesa X and Cyprus-based Atalaya Mining have agreed to a partnership to build the largest self-consumption photovoltaic facility for a mine within Spain. The 50MW facility will be located in the municipality of Minas de Riotinto, on the premises of Atalaya Mining. It will be the first to supply clean energy to a mining operation within its goal of becoming a producer of green copper.
The facility will service the Proyecto Riotinto mine, which comprises an open-pit copper mine and a modern 15Mtpa processing plant. During the third quarter of 2021, the plant processed 3.9 million tonnes of ore. The mine has proven and probable ore reserves totalling 197 million tonnes at 0.42% copper.
The project's construction costs will involve an investment of €30m and will have a high social component, remaining in operation after the mine's exploitation life ends. The 50MW photovoltaic plant will have a substation that will carry out electrical transformation and will provide the mining operation with a completely renewable and high-quality supply.
All this new infrastructure will allow the annual reduction of more than 40,000 tonnes of indirect CO2 emissions into the atmosphere, equivalent to the consumption of 19,448 traditional combustion vehicles.
During the signing of the agreement, Enrique Delgado, general director of Atalaya, stated: "This agreement marks the start of a project that excites us especially; once again, we demonstrate to society that Andalusian mining is at the forefront of the industry, and that Atalaya's commitment to sustainability is real."
Davide Ciciliato, general manager of Endesa X, supported this sentiment, stressing: "This is a strategic project, both for Endesa X and for the country, for developing new alternative sources of energy, key to promoting energy independence both nationally and as a European."