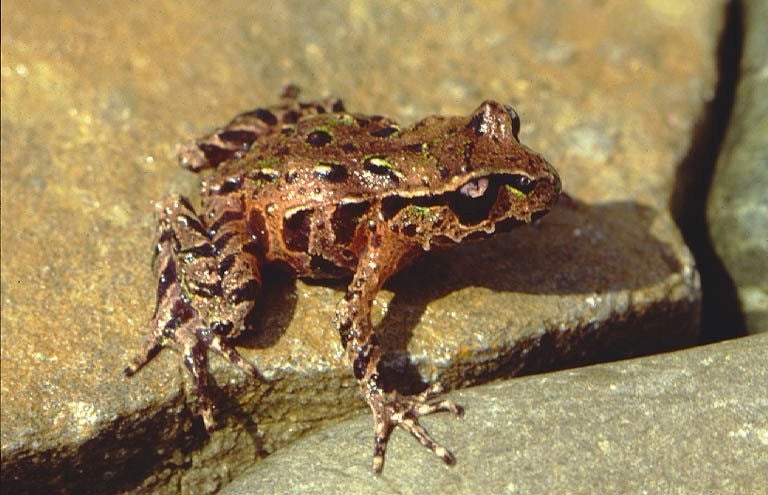 Multinational gold producer OceanaGold has been accused of "mining by stealth" in a New Zealand conservation area by Coromandel Watchdog of Hauraki, an umbrella group representing various anti-mining environmental groups on the Coromandel Peninsula.
The group has condemned OceanaGold's plan to build a 6.8km tunnel underneath conservation land at Wharekirauponga, which is home to Archey's frogs, the world's most endangered frog species.
OceanaGold purchased the interest in the site from Newmont and Glass Earth in 2016, incorporating it into the company's existing Waihi operations and exploration plans in the region. The company has since undertaken exploration works at the site including drilling, and in February 2019 announced an initial resource deposit. Waihi's scoping study indicates an initial 2.4Moz of contained gold over 15 years, investment in New Zealand of around $1.4bn, and the potential for 300 jobs to be created.
The status of Wharekirauponga as a conservation area means the resource contained underneath cannot be mined from the top down. Feasibility studies for accessing the resource are ongoing, and OceanaGold in October this year provided an update on the project. Its latest proposal is to construct a 6.8km underground tunnel to access the resource and conduct further exploration.
While several options are being considered, the most likely is a single tunnel developed using a drilling and blasting method. Rock would then be stockpiled on the surface, with the stockpile adhering to a maximum height of 15m above the existing topography. The tunnel would also require the installation of five ventilation raises to supply air to the tunnel. These would be temporary and only exist for the life of the project.
Disputing these proposals, Coromandel Watchdog said: "To create a tunnel the mining company will need to blast under the forest, creating risks for the frogs, which international research has shown can affect their reproduction.
"Oceana says that the tunnel is only for exploration purposes, although it will require a four-hectare (almost 10 acres) rock storage stockpile built to 15m above natural topography and 5 ventilation shafts, each with a footprint of 5mx5m. The tunnel will also require dewatering – the taking of water from the groundwater system which will affect streams and water above ground.
"This project is clearly mining by stealth, it's undermining conservation land while the Government breaks their promise to protect it. The tunnel is not exploration, it is mining infrastructure being built under false pretences."
OceanaGold said in its project overview that it will propose that stringent ecological conditions be applied to avoid adverse effects on wildlife and minimise landscape disturbance. The company said it does not envisage any vegetation clearance to establish the ventilation raises. OceanaGold does not agree with the notion that the tunnel project would itself be infrastructure for mining work.
"Before we construct any infrastructure, we will first need to obtain resource consents from the Hauraki District Council and Waikato Regional Council," OceanaGold Waihi acting general manager Dan Calderwood said. "These resource consents would provide for exploration activities only, as mining of the Wharekirauponga resource is not intended as part of this tunnel project."
Calderwood said that the company has yet to apply for consents for an underground mine, and "will not do so without comprehensive consultation and engagement".
"All work at Wharekirauponga is being conducted in line with key responsible mining commitments: Any potential mining operation we may undertake in the future would only be underground. We will undertake significant, detailed studies before we apply for resource consents. We will undertake detailed investigations and consultation to understand cultural, social and environmental values.
"We know that the area is home to a number of important species, and we understand how important this ecosystem is. Studies by independent experts will provide us with the information we need to determine how it could be possible to tunnel or mine under this area."